Meadow Green Farm
Club Med for Pigs
We sell shoulder and ham roasts, ribs, chops, sausage, organs, and tenderloin as well as whole pigs. Rappahannock customers, please call 540-987-8445 or use the form below to send us an email. Non-local customers can buy our products from the Rappahannock Natural Foods Cooperative or Retail Relay in Charlottesville.
Meadowgreen Prices (per lb)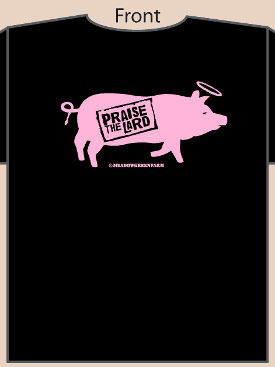 Ground pork sausage unspiced
5.50
Ground pork sausage (herby or spicy)
6.00
Hams (bone in)
7.50
Shoulders ( butts and picnic roasts, 5-12lbs)
8.00
Thick cut Pork Chops (bone in, packs of 2 or 4)
10.50
Short Ribs
6.50
Boneless loin roasts
12.00
Tenderloin (1-2lbs)
14.00
Liver
5.50
Hearts, testicles & kidneys
4.00
Soup bones
2.50
Special cuts and half pigs by advance order
From time to time, pigs may also be sold on the hoof; sucklings when available.
Meadow Green pastured pork should be cooked at temperatures 25-50 degrees lower than normally recommended in cook books, as the meat is generally quite lean, and can easily be overcooked. SLOW and LOW is the way to go.
Pork Lovers' Tee Shirt
Sizes in stock: medium, large, extra-large.
Payment: $16 plus $5 shipping charge. Payment in advance by check.
Payable to: Meadow Green Pork Products .
Mail to 210 Pophams Ford Rd, Sperryville, Va 22740.
Orders of $100 or more get a free shirt .
Send Us an Email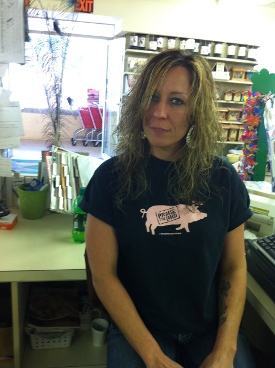 Robbie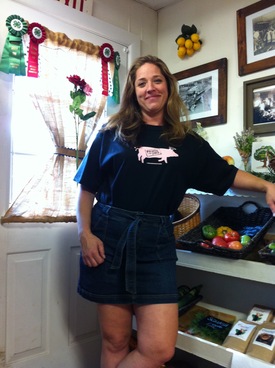 Lois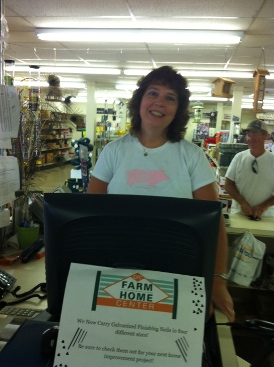 Becky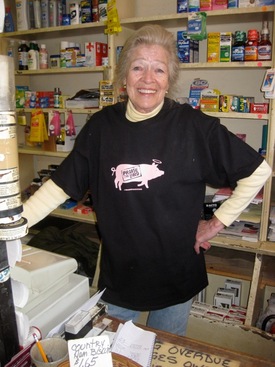 Mary Francis