Meadow Green Farm
Pastured Pork
Pastured on chemical-free grass
No Hormones
No Antibiotics
Free Range
John Kiser is a writer and former technology search consultant turned pig farmer. For ten years he has been selling lean, pastured pork to his friends in beautiful Rappahannock County. Now he is expanding his herd to make it available to a bigger market.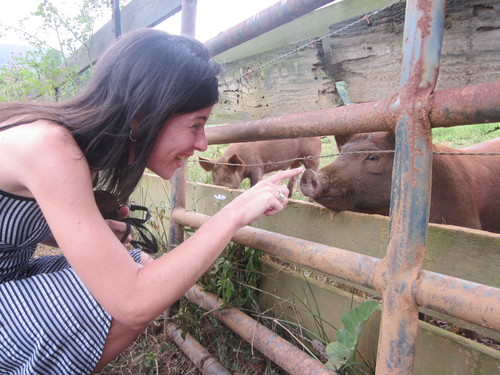 Meadow Green Yorkshire pigs live in a luxurious 19th Century barn when it is too cold or hot to be outside. Pigs are nature's front end loaders and ours get their minerals directly from the iron rich Rappahannock soil. We do not clip teeth, tails, ring noses or use any form of confinement. They are raised naturally.
They roam, they dig, they graze. We let our pigs be pigs. They don't get fat gorging themselves on antibiotic-laced feed, but slowly on fescue and clover rich pasture. They have a happy, if short life. Happy well-cared for pigs taste good.
Come see our porkers grazing, lolling in mud baths or napping in the shade. Visits by appointment only (540-987-8445).
Charlottesville residents can find our products at Relay Foods.
See also Pam's Antiques Site.